Built in 1946, SS Freshspring was intended to carry 236 tons of water to warships as well as provide limited assistance in firefighting and salvage operations if needed. When she was discovered lying on the Severn estuary she was remarkably intact. Here's a bit about what we found when we delved below deck.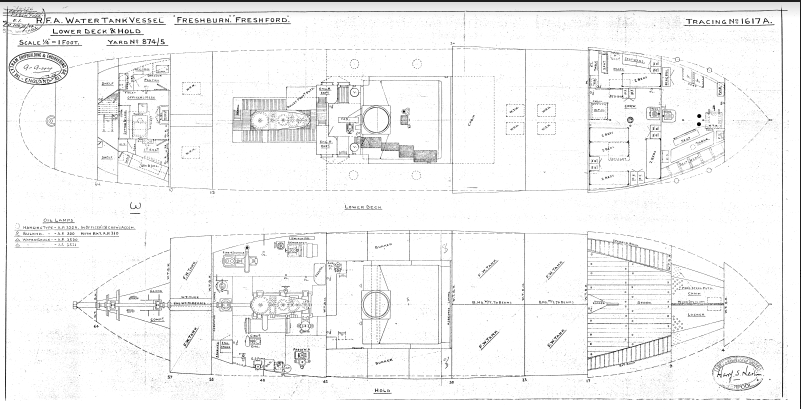 Hull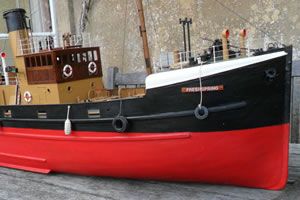 Length overall 126 ft 6 ins (38.5m)
Length between perpendiculars 120 feet (36.5m)
Beam 24 ft 6ins (7.5m)
Draft 10 ft 9 ins (3.3m) max
Between 0.3" (7.6mm) and 0.26" (6.6mm) thick
289 gross registered tons (293.6 tonnes)
Boiler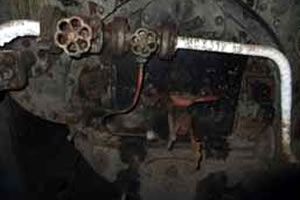 A single boiler of the scotch return tube type. It has three furnaces and is 13 feet (4M) diameter and 10 feet (3M) long. The working pressure is 180 psi (12.4bar) Air is preheated before entering the furnaces. A Sisson powered centrifugal fan is provided to assist in providing air to the furnaces.
This was originally coal fired with three coal grates using some 4 tons of coal in 24 hours. The grates were replaced during the life of the ship with three heavy oil burning furnaces. These use steam pressure to atomise the oil.
The oil system was provided by The Wallsend Slipway & Engineering Company using their own Wallsend-Howden patent system.
Main Engine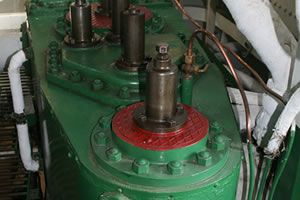 A triple expansion reciprocating engine of 21 inch (0.53M) stroke with cylinders of 11 18 and 30 inches diameter. (0.28 0.46 0.76 m) It produces 450 indicated horsepower (335.6KW) at 170 RPM.
The engine is fitted with steam reversing gear to change the engine from ahead to astern. A rocking lever from the crosshead drives the air pump, feed pump and bilge pump.
The engine exhausts into a condenser returning water back to the system.
Maximum speed is 9.5 knots and the propeller is cast iron and 6ft 10 inches diameter (2.08 M)
Wheelhouse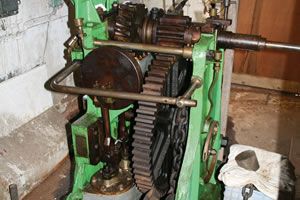 Fitted with a steam steering engine by Donkin & co Ltd. There are two steering wheels one for use with the engine and one for manual control. The system is known as rod and chain as chains from the engine lead to the deck where rods linked to chains on the rudder provide control.
Water Tanks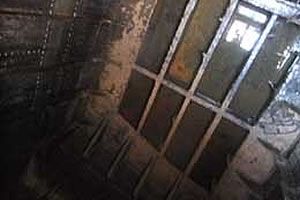 205 tons (208.3 tonnes) of fresh water carried in two pairs of forward tanks, 88 tons (89.4 tonnes) in the forward tanks and 102 (103.6 tonnes) in the aft tanks, accessed via four hatches in the foredeck, then two tanks aft of the engine room of 46 tons (46.7 tonnes) each.
Accommodation and Crew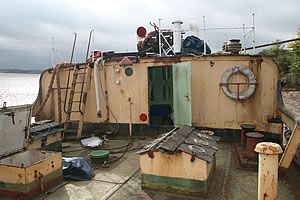 Captains cabin
Officers accommodation aft
Galley on above deck aft
Lamp room, paint store, showers and washroom in the forepeak
Auxiliaries
Electric Generator
Robey powered 10KW 110volt DC Clarke Chapman generator.
Condensor Circulation Pump
Condenser circulating pump is centrifugal and by Drysdale of Glasgow.
Fire and Salvage Pump
Fire and salvage pump is centrifugal and by E.N Macklay & Co.
Boiler Feed Pump
By Dawson and Downie, 2 inch (0.05m) pump 10 1/2 inch (0.27m).
Bilge and Ballast Pump
By Dawson and Downie, 2 inch (0.05m) pump 10 1/2 inch (0.27m).
Main Cargo Pump
All reciprocating pumps are by Dawson Downie with the main cargo pump having a capacity of 900 gallons (4,091 litres) per hour.
Forced Draft Fan
W Sisson & Co. Ltd of Gloucester, 3 1/2 inch (0.09m) by 2 1/2 inch (0.06m) stroke turning a 26 1/2 inch (0.67m) fan.
Windlass
The anchor windlass is a twin cylinder unit by Gemmell and Frow Ltd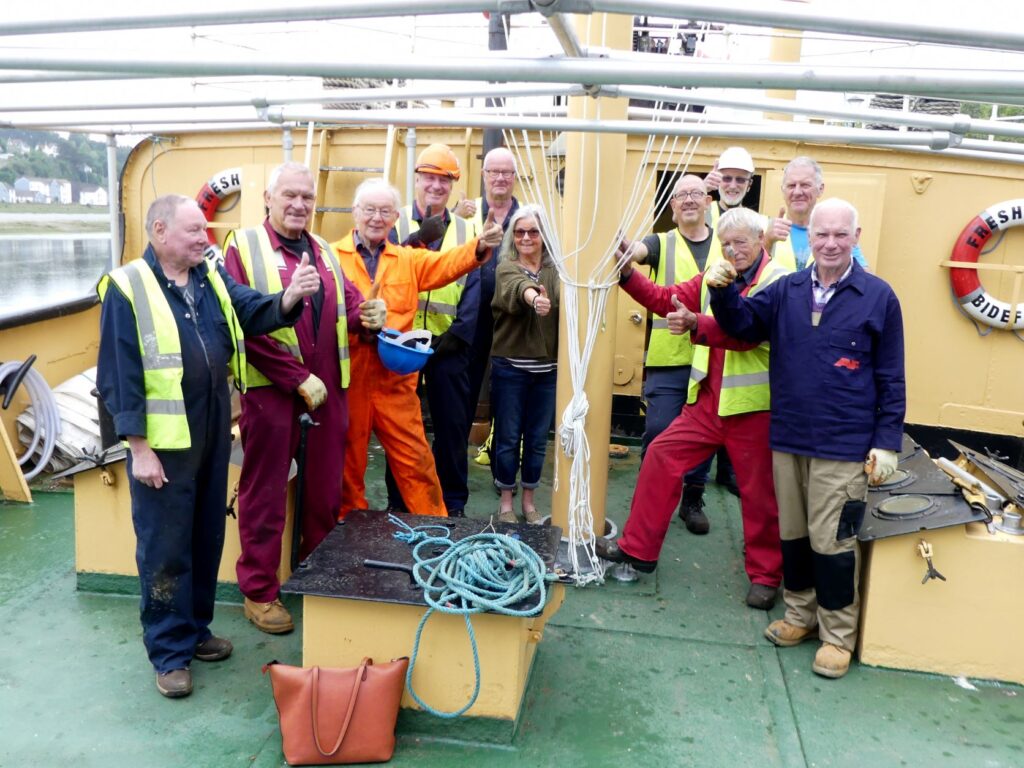 Become a Volunteer Today
Volunteering is a vital resource to the Trust achieving its aims.